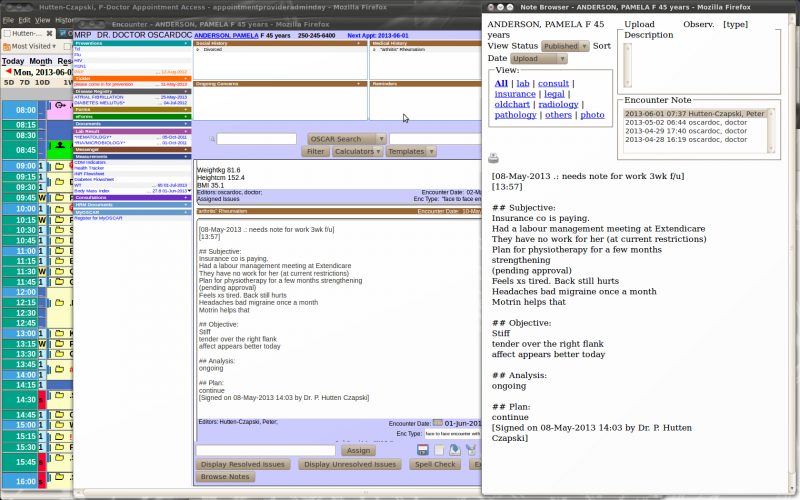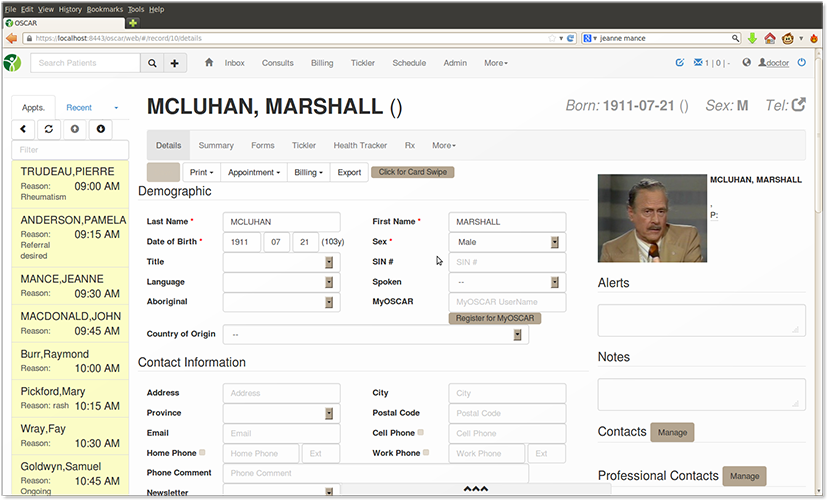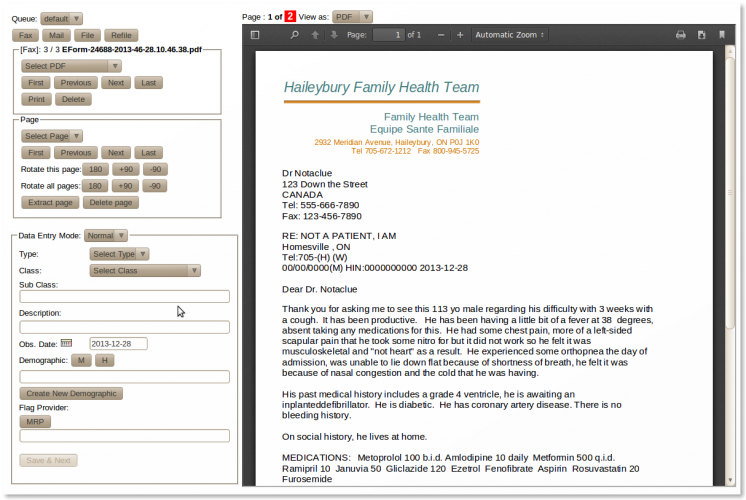 WHAT IS OSCAR?
OSCAR is a proven Electronic Medical Record (EMR) designed by medical researchers at McMaster University in Hamilton, Ontario, to help improve health care from individual to population health levels while reducing costs. OSCAR, which currently supports over 1.5 million patients across Canada, offers an extremely versatile, browser-based, EMR with high clinical functionality and advanced research capabilities.
This highly customizable EMR has no licensing fees, and its low cost of ownership makes OSCAR one of the most efficient and affordable EMR solutions in Canada for practices of all sizes and specialties.
OSCAR is also eligible for up to

$27,100

in per-physician funding for the implementation of an EMR system. Funding is made available through the EMR Adoption Program established by the Ontario Medical Association and the Ministry of Health and Long-Term Care.
Funded Physicians using OSCAR EMR as of 2014 (Existing)
Funded Physicians using OSCAR EMR as of 2014 (New Adoptions)
Secure
Secure socket technology similar to online banking
Automatic nightly data backup
Second Level Authentication
Complete Audit Trail
Better Workflow
Helps for maximum team utilization
Lower patients wait time & better customer experience
A robust tickler system for better team communication and task assigning
Cost-Effective
No Licensing Fees
Built in prevention system for patient follow-ups
CDM tools
Minimum hardware
No vendor lock-in
Strong Billing System
Super code
Code Reminders
Fast billing correction
OHIP file simulation
Provider end-year statement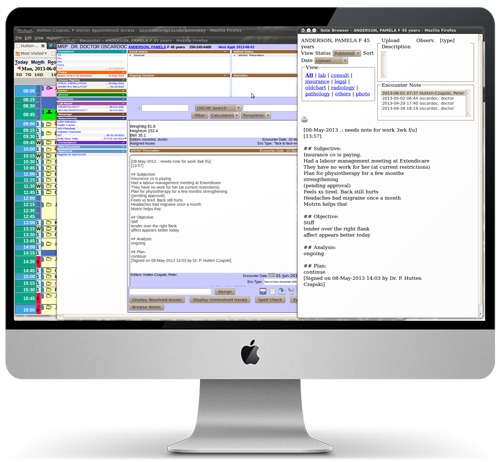 SECURITY

Physical
24/7 Monitored facilities or locked in a room in your office
Open in on the shelf in your facility
Network
Full firewalls, Antivirus, Intrusion detection, DMZ, 24/7 Monitored
N/A

RECOVERY

Backups
Fully automated nightly backups
No Backups
System Recovery
Near real-time switch to a backup server
Rebuilds charts manually by seeing patients again

MAINTENANCE

Software Updates
Fully automated updates applied soon after they are available
N/A
Hardware Upgrades
Low
N/A
ACCESSIBILITY
Disaster Situation
Full access to records anywhere with internet
No access until the facility is safe to enter
Mobility
Anywhere with internet connection
Only from your office

COST

Initial Cost
Moderate (Implementation + Training)
Low (Shelves, Folders)
Ongoing Cost
Moderate (Support)
Moderate (Large Floor Space)
Billing
Super Codes

Simple Billing correction

Billing history

Coder reminder

Batch billing

OHIP file simulation

Provider end-year statement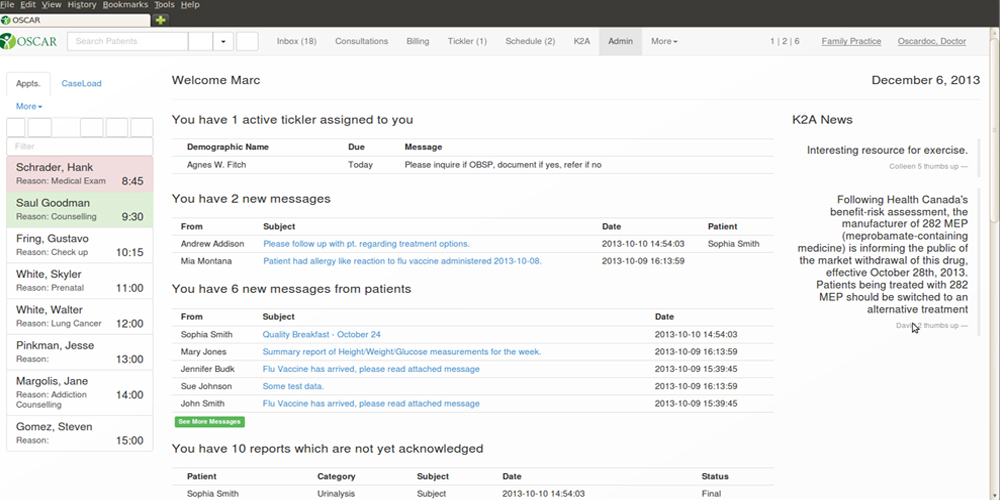 Dashboard
Secure socket technology similar to online banking

Collates the regular workload in one screen

View appointments, tickler, patient reports and search demographics from one place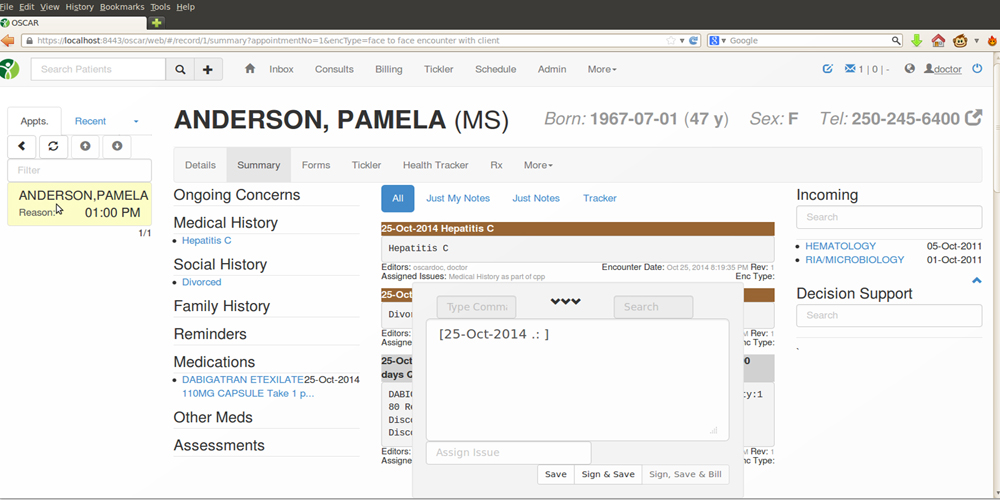 Patient Encounter
A glance at all patient data

Access all patient modules from one place

Decision support alert

Cumulative patient profile (CPP)

Disease registry
Patient registration and roseter management

Complete and customizable scheduling

A robust tickler system

Electronic charting with Cumulative Patient Profile (CPP)

Prevention module which captures and tabulates outstanding preventative and intervention practices

Prescription module with drug-drug interaction, allergy allerts, prescription favourites, renal dosage, adjustments, patient's preferred pharmacy

Automated customizable forms

Disease registry
Sophisticated antenatal care record and planner

Automatic lab imports

Measurement records with graphing functions

Document management system

Chronic disease management tools

Referral system

Decision alerts

Secure message system

Complete billing functions

Research tools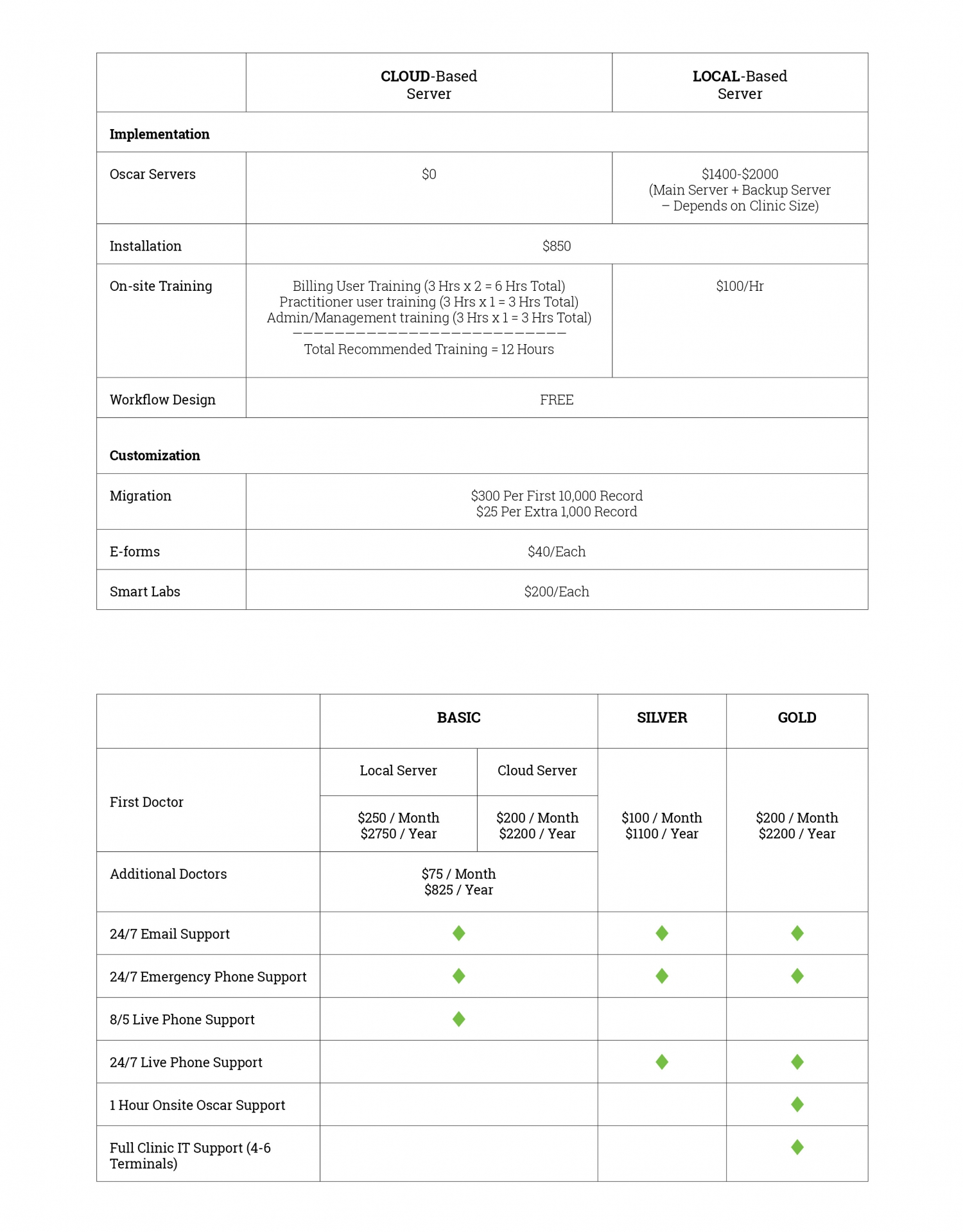 WHY CloudSys?
Who we are?
We are a team of passionate high-performers who thrive on big challenges and delivering big results
Top Notch Support
Live phone support with zero wait time
Emergency onsite support within 4 hours
Smooth EMR transition
Your clinic can be Oscar-ready in 1 day! (over the weekend so you can have zero downtime at your clinic)
Wallet-Friendly
We are proud to offer the lowest OSCAR support prices. (Don't even think to compare us to the extra expensive proprietary EMR softwares!)